Hello lovelies and welcome back to the #slayingyour20s series!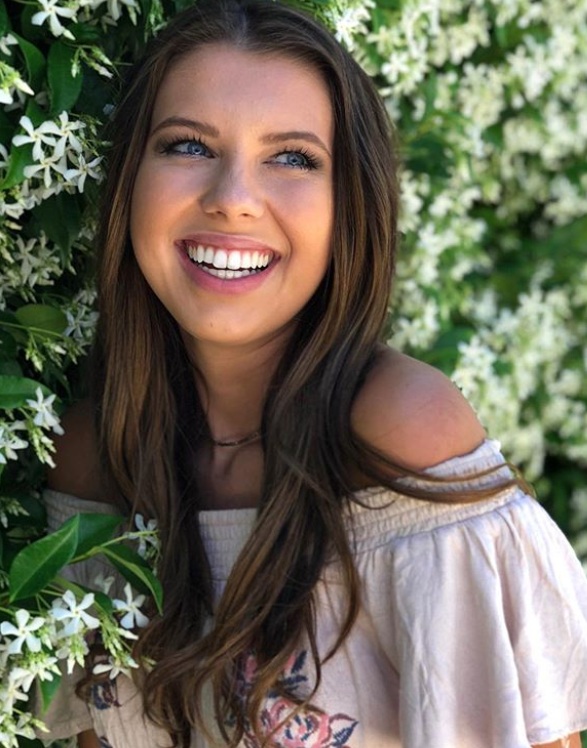 This week's boss babe is
Kylie Churnetski of KC Marie Wellness and kcmarielifestyle.com.
Kylie and I were actually connected through our amazing role-model and Flower Girl chair Christine Thomas. We were two years apart in participating in the Flower Girl program and since connecting there has been no doubt an amazing sense of support and girl power between our communities.
Kylie is an amazing role model who has had her fair share of food allergies and health struggles. However, she channeled that struggle and turned it into an amazing brand and lifestyle for her mind, body, and community.
Who is one influential #bossbabe you look up too?
"People may not remember what you said, but they'll remember how it made them feel."
"When I was in junior high and high school I was bullied a lot. Girls were malicious with no rhyme or reason as to why they said or acted the way they did. I tried to be their friends and was on that outer circle, it made me compromise myself and it hurt my confidence. I've come to realize that if people don't share your same energy you shouldn't waste your time with them. Find people who share your love, passion, excitement, and everything in between. Real women support other women and want to push them up to be their best selves, not tear them down. Always hold yourself to your highest standard, and get rid of thoughts, people, and actions that don't align with the shining star you are."
How do you use social media to brand not only your work but also your self?
"I'm very straightforward with everything I post. I post workouts, recipes, yoga tips, and quotes of self-love and positivity. I also post about my journey: all the ups and downs, my thoughts, how I overcame the downs, and how I celebrated the ups. What you see is what you get. It took me a long time to embrace and love myself entirely for who I am, so I'm not afraid to be transparent to my followers and clients."
How do you relate to the #bossbabe & #girlboss mentality through what you do? How does Fitness play a major role in this?
"I think of #bossbabe and #girlboss I think of a confident woman who isn't afraid of going after what she wants no matter what obstacles are in her way. I feel it is the same in the fitness industry, especially for women. "Women aren't strong," "women should only get toned not have muscle," "women only take pictures at the gym." It's bullshit and I'm not afraid to say it. Women are strong, and strong is sexy. Don't listen to what men, other women, social media, or anyone else has to say about it. Follow what you want and what makes you feel strong, sexy, and powerful."
What's one piece advice you want to share with other aspiring young women, chasing their dreams and career goals?
If you have big dreams and goals that you feel deep in your body— just go for it. It will never be perfect or the right time or easy, but if you want it, that won't matter.
"As a wellness coach, I tackle a lot of aspects. Starting w my credentials I am certified as a group fitness instructor and NASM personal trainer. I'm also a 200-hour yoga instructor and Buti Yoga instructor. I have 1 and a half more years at Arizona State where I am becoming a registered dietitian and life coach. With various styles of knowledge I want to bring them all together to form a new style of fitness and wellness. You would see a PT for fitness needs, a psychologist for mental needs, and dietitian for nutrition needs. Now you can see one person for all three. I firmly believe that you need to balance physical fitness and diet to achieve fitness. Additionally, you can't push yourself to do that without being in the right mental space with motivation and self-love. My workout programs, nutrition guides, and coaching sessions are available to help those who want to take wellness to a new level. Later down the line, I would like to also be able to coach in person, speak to large groups, and write self help books.
Kylie explained that one of the biggest challenges she has faced was comparing her business to others, "It's easy to do, it's just like negative self-image and scrolling through model's photos or being unhappy and feeling alone and seeing others having fun together. It's a NEGATIVE habit. It doesn't mean it'll go away as soon as it's identified. It took me a while to work on that and accept myself and my journey for where it's at."
"It is easy to get caught up in what other people are doing and how you may feel stagnant in comparison. Don't overthink it! Life moves in waves and we just have to trust that. It can get frustrating (I've definitely been there) but that's where yoga and positive attitude come into play. They keep me aligned with my goals and remind me what my true purpose is. From the start I told myself if I could help at least one person change their mindset, become motivated, etc. I would be doing exactly what I'm meant to do in life."
Where does your inspiration come from?
"My inspiration comes from 16 year old me. At this point in time, I was in a bad relationship that was clearly ending and I was DEVASTATED. My mom convinced me to try a yoga class and I fell in love with how it made my body and mind feel. I wanted to feel that way every day. From there it has snowballed into a love of yoga, fitness, nutrition, and self-love. I embrace all of these in my business as I help women transform physically and mentally into their best version."
Anyone you want to thank?
"I know it sounds stereotypical and cheesy but I have to start by thanking my mom. She was the one who pushed me to take my first yoga class. When I was 17 she helped me pay to get my 200-hour yoga teacher training. She has always supported and believed in everything I want to achieve."
Favorite Morning ritual:

"I like to wake up early, take my dog for a walk, and make a hearty breakfast, then I'll go to the gym!"

Favorite Routine to help you feel motivated to work and keep your - shi** together:

"If I need it, I'll take a day or night to myself to regroup— yummy food, bath, face mask. I'll go to bed early and get up the next day ready to grind!"
A huge shout out to Kylie for working with me on this project you are such a light and inspiration for others!
If you know a definite #BossBabe that we should feature in the AZ community send us their email or social media handle!